Hockey Eastern Ontario is one of the thirteen Branches of Hockey Canada, and along with the Ontario Hockey Federation and Hockey Northwestern Ontario, it is one of the three branches in Ontario.
Formerly known as the Ottawa District Hockey Association, Hockey Eastern Ontario is the governing body of amateur hockey in Eastern Ontario. As defined in more detail in the HEO Constitution and By-Laws:
Hockey Eastern Ontario is the governing body of Amateur Hockey within its defined boundaries. It shall be composed of amateur hockey teams, of amateur hockey leagues, and of amateur hockey associations which are within the geographical jurisdication of the association and which are willing to comply with the By-Laws, with the Regulations and with the rules of HEO.
Hockey Eastern Ontario shall have jurisdiction over that part of Ontario lying east of and including the Counties of Lanark, Renfrew, and all of Leeds except the town of Gananoque and the portion west of Highway No. 32, and south of Highway No. 15 in the Province of Ontario.
Objectives
The objectives of Hockey Eastern Ontario are:
to foster, improve, and perpetuate the sport of Amateur Hockey within the territory under its control
to secure the enforcement of the rules of the game as adopted by the Association
to conduct elimination competition for the different Association Champions as well as Challengers for Inter-Branch and Canadian Championships
to adjudicate on all questions arising from and pertaining to Amateur Hockey within the Association
Mission Statement
As a Branch of Hockey Canada, we adhere to the Hockey Canada Mission Statement:
"We dedicate ourselves to the advancement of amateur hockey for all individuals through progressive leadership by ensuring meaningful opportunities and enjoyable experiences in a safe sportsmanlike environment."
Districts & Associations
HEO is comprised of 11 districts. Each district may have multiple minor hockey associations comprising of both house league and competitive hockey programs.
View Districts & Associations
Organization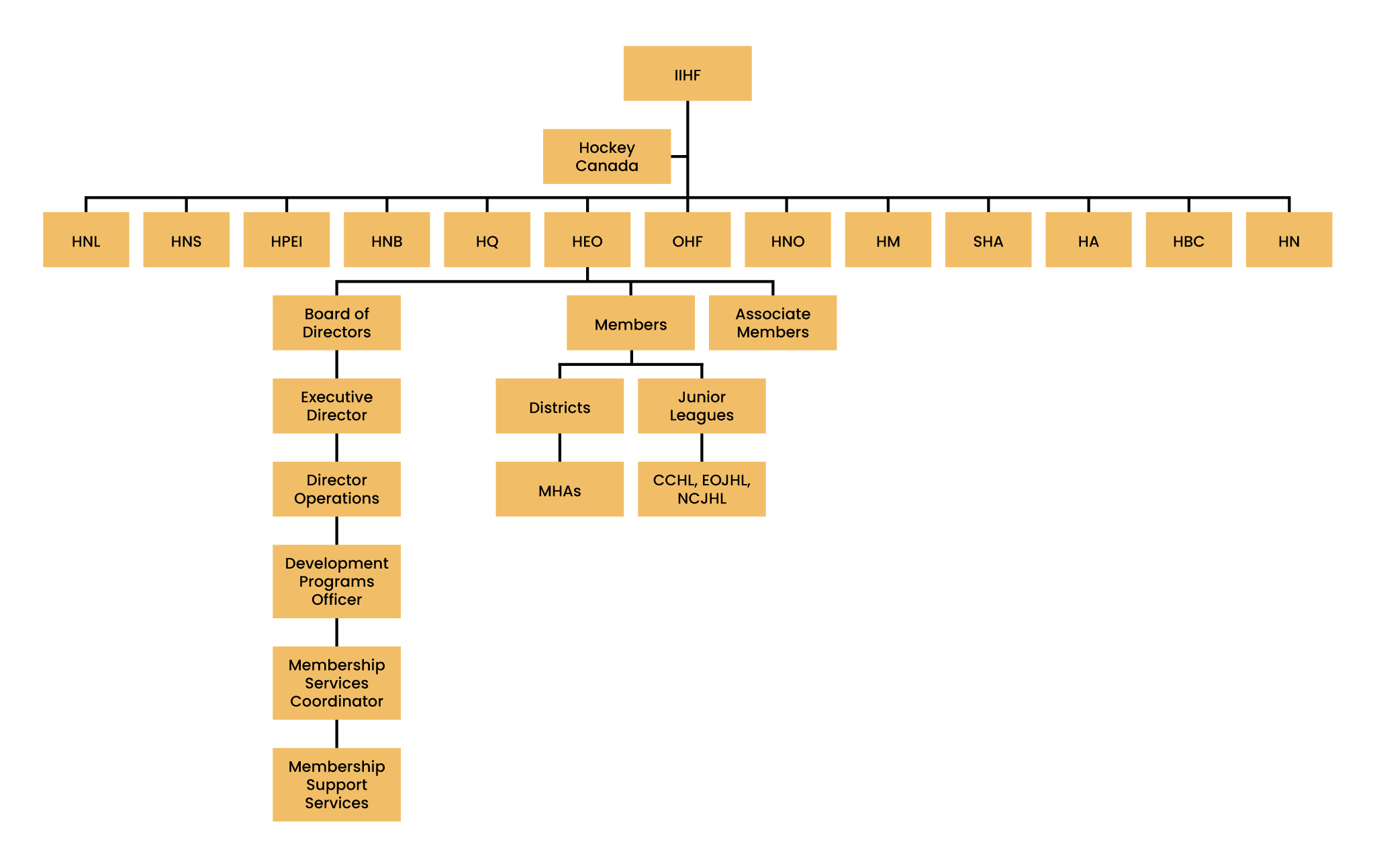 Resources